Whether you intend to develop a mobile game, lifestyle, or enterprise, many would agree that Android apps are one of the most versatile, all-encompassing platforms in the mobile industry. Indeed, if there's traffic that a business app owner or app developer shouldn't miss out on, it's the one that comes from the Play Store.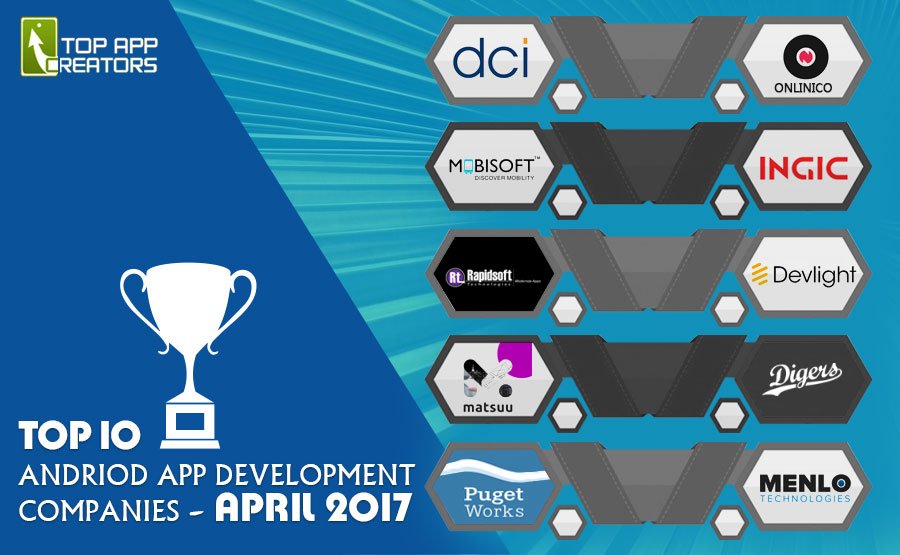 If you want to have an app developed that would be solely released in the Android platform (as many mobile app marketers would certainly encourage), then you should opt for companies that have already shown remarkable success in the Android apps that they have made for their clients. It can be difficult to pinpoint the exact ones out there that have done so, for it would really require extensive research. The fact that many of them are a dime a dozen doesn't help as well, hence, we release our monthly list of top 10 Android companies.
Here are our Top 10 Android App Development Companies of April 2017:
Dot Com Infoway offers mobile/PDA application solutions that help organizations to communicate with their customers through custom mobile devices. Leveraging our industry intelligence and technological background, we design and build mobile applications that are customer-friendly and facilitate easy and quick data processing. We have developed customized iPhone based mobile application, Java based mobile application and Windows based mobile application solutions.

ONLINICO – Software development service for startups. We offer Web/Mobile/API development, QA Services and Continuous Support. Flexible and adjusting to the startups' special needs, ONLINICO transforms your ideas into a successful market offering.

Mobisoft Infotech is Houston based smartphone application development company specialize in iOS, Android and BB Enterprise app development and our portfolio comprises of more than 240+ applications delivered so far. Our team has great experience in Mobile App Development along with creative and Market specific product development.

Ingic introduces itself as one of the leading IOS and Android app Development Company in the current market. They are extremely passionate about delivering the state of the art apps for the clients. We have highly motivated individuals who are tech geniuses this is why Ingic makes sure the best results according to client's need.

Rapidsoft Technologies is one of the prominent mobile application development company. It has delivered more than 300 mobile applications to the clients at high customer satisfaction. This company has transformed many raw ideas into effective end products.

Devlight – is reliable and innovative mobile development agency. We deliver the right results in terms of efficiency, performance, interoperability, and user experience comprehensive technology. DevLight is an expert in development, customization, and integration of innovative solutions, advanced mobile applications for iOS and Android. We approach our business with creativity, fresh ideas, lateral thinking and a commitment to do things in a new way.

We are a team of individuals, contacted by passion that puts their hearts and minds towards a common goal. To create mobile apps ranging from great to amazing.

With over 8 years of experience in custom web and mobile software and apps development, we've proved to be capable of developing web apps that server over 1M unique daily users, as well as complex platforms used to conduct loyalty marketing programs for multi-national brands. Supporting our clients both technically and business-side – from AngularJS, to Symfony and native mobile apps development for Android and iOS, to marketing and business-related knowledge.

PugetWorks has been in business since 2005 and has completed more than 50 software projects successfully. We've built everything from enterprise applications to iPhone games, working with large corporations, small startups, and everybody in between. Our staff includes top-notch designers, programmers, and system administrators ready to help with any stage of the process with the rare ability to succeed on projects both large and small.

Menlo Technologies is a global services company specializing in cloud integration, data analytics and mobile technology that will transform the way you do business.