Android holds the largest market share when it comes to both smartphones and tablets. Companies that choose to develop a native app would be well advised to choose Android if they want to access the world's largest mobile device market. This is true whether you have an innovative idea for a gaming app, or if you would like to launch an e-commerce app for your online store.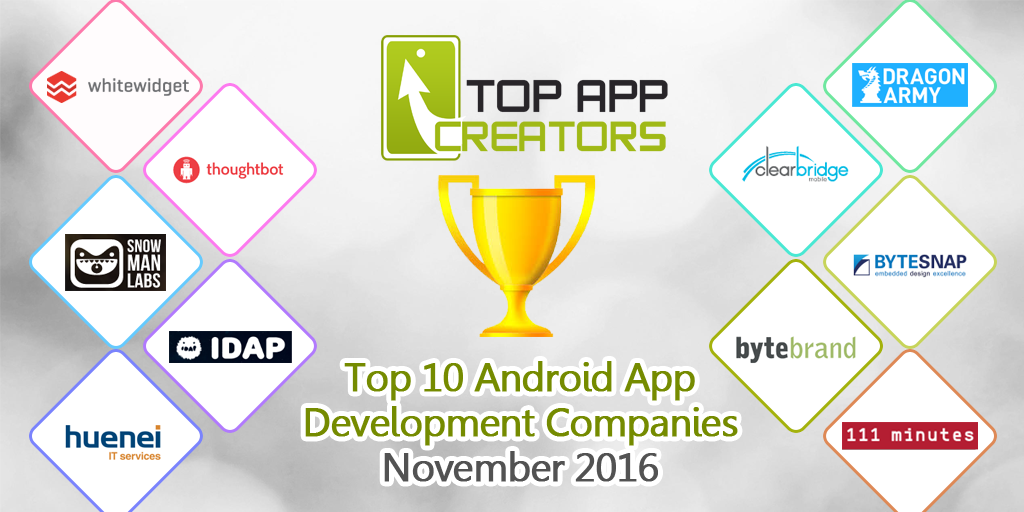 If you want to commission an enterprise app, Android is perfectly suited for internal purposes as well. Considering that Android devices are generally cheaper, you can equip your staff with Android smartphones and tablets, and then commission the development of a native app. However, both enterprise and customer-facing apps can require a considerable investment, which is why it's important to make sure that you only work with companies that can deliver great results. This is why we've compiled this list of the top 10 android app development companies for the month of November 2016.
Here are our Top 10 Android App Development Agencies  of November 2016:
Snowman Labs is an insane laboratory for mobile technologies' experiments and creations. We build stunning and amazingly designed apps for iPhone, iPad and 'Droids – but not only do we build them in the coding sense, we design them from scratch, we engineer their internals and make the most beautiful user interfaces integrated with seemingly user experience and simple user interaction.

ByteSnap Design offers a range of mobile application development services including iPhone and Android application development for a wide range of sectors including logistics, marine, energy and automotive.

We strive to be the best mobile partner in the world. We believe that mobile represents the best chance to build a true relationship with your customer. All the promises that marketing has made over the years are now possible with mobile, which is why we dedicate every ounce of our efforts to be laser-focused in the space. We don't mess around with anything else… we build rewarding mobile experiences, exclusively.

We're a consulting firm of about 90 people in Boston, New York, San Francisco, Stockholm, Denver, Austin, Philadelphia, Raleigh, and Portland focused on user experience, Ruby on Rails (web apps), and iOS/Android (mobile apps).

Clearbridge Mobile is an award-winning full stack mobile app development company that provides user-centric product design and engineering services. Founded in 2011, Clearbridge Mobile has developed over 200 apps for rapid-growth startups and Fortune 1000 clients that have accrued over 100 million downloads. Its services include strategic consulting, UI/UX design, development, QA and maintenance. Clearbridge Mobile's growing roster of clients includes New York Times, Dow Jones, Free The Children, PayPal, Tim Hortons, USA Today, Wall Street Journal and many more.

We love offshoring but hate when people get lousy products because of poor communication or bad developers. Our mission is to bridge the gap between businesses and offshore developers. We manage small-medium sized IT projects to make sure businesses get the quality product they need at a price they can stomach.

IDAP is a full-cycle software development company with more than 8 years in experience. Founded in 2008 & headquartered in Kyiv (Ukraine), our company specializes in providing customers with the most premium mobile and web-based solutions that custom software companies can offer. Our main goal is to deliver remarkable mobile and web applications which will satisfy and keep users craving for more.

111minutes is a startup studio founded in 2007. We are thinkers, designers, coders, concept developers, consultants, illustrators and makers. We are startup helpers. We create for end users and do our best to make this world better by helping startups and businesses release more smart and pretty products in the United States and all over the world.

White Widget is an indie game company that creates great experiences for iOS, Android, web and desktop platforms. Nurturing some of the best talent in the market, our goal is to elevate Philippine software development on the global stage.

Founded in 1995, Huenei is regional provider specialized in IT services. In the present, it has a staff of more than 250 professionals and offices in Argentina, Chile, Mexico, Colombia , Perú & USA. Since its beginnings Huenei provides big companies from over 10 different countries with managed and professional services in 5 areas of expertise: Software Development, Mobility, Software Testing, IT Infrastructure & Process & Management.