Mobile apps are fast-becoming the go-to platform for most businesses as they bring numerous unprecedented advantages to the table. Nonetheless, app development does require knowledge, much like any other craft that a person chooses to learn and excel in. It's understandable that, even though you have the vision and savvy in doing business, you may lack the temperament to learn how to develop an app from scratch. This is when hiring iPhone app development companies come in.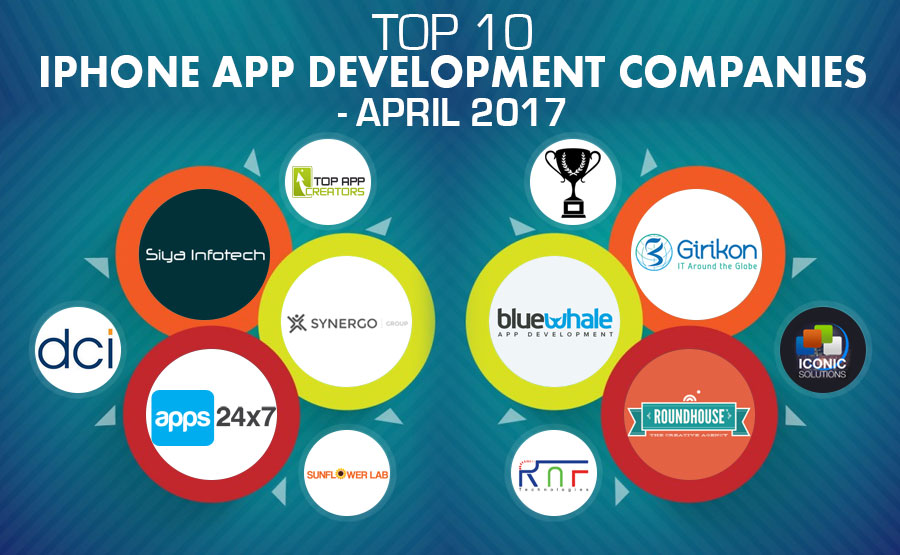 They would pretty much take care of all the development aspect of your app, allowing you to focus your attention to how you want it to look and the entire operation of your business once it's been released. There's no shortage of companies that would be offering to do this for you. This is why we've opted to help point you towards the right direction by sharing our top 10 for April 2017.
Here are our Top 10 iPhone App Development Companies of April 2017:
Dot Com Infoway offers mobile/PDA application solutions that help organizations to communicate with their customers through custom mobile devices. Leveraging our industry intelligence and technological background, we design and build mobile applications that are customer-friendly and facilitate easy and quick data processing. We have developed customized iPhone based mobile application, Java based mobile application and Windows based mobile application solutions.

Siya Infotech Solution have more than 7+ years of experience for providing IT solutions. The firm is specialized working in iOS development, Asp.net MVC & various PHP open source technology. Our professional developers have expertise in the development of robust web and mobile app development, according to the specific requirement of our clients.As an experienced web development company, we are offering offshore outsourcing solutions to different businesses all over the world.

Web & Mobile App Development in Toronto. The Synergo Group is a team of ridiculously smart, passionate individuals. We've helped organizations across many sectors to build innovative software that has improved their ability to create value and deliver impact. We build effective web & mobile solutions for Start Ups, Enterprises and Small Businesses.

Our team consist of experienced professionals which applies high-tech technologies and leading-edge strategies for enhancing the company business opportunity and upgrade it in the level of success. At Apps24x7, we believe in client satisfaction, so we always incorporate our best services in the client project which result in outstanding project for them.

Iconic Solutions is the leading digital product design and app development firm that serves global brands and cutting-edge startups. We're a skilled product team for hire that's driven by creating amazing digital experiences, one app at a time. We've assembled a team of the industry's best mobile marketers, mobile app designers and mobile app developers who are dedicated to transforming the methods businesses use to communicate with customers through custom created digital products.

Girikon is an IT professional services firm that engages in IT Professional Services in the area of Cloud Solutions; Salesforce Consulting; Custom App Development; Web/Mobile App Development and IT Software Maintenance.

Sunflower Lab is premier mobile & web development company with 40+ people across two continents with three offices in Ohio, New Jersey & India. WHAT WE DO? Mobile & Web Applications, Custom Business Applications, eCommerce Applications, Strategic Consultancy, Cloud Migration, Cloud Managed Service, OpenSource Development.

Blue Whale brings you a team of highly experienced professionals who have worked with the world's leading technology, advertising and design companies.

Roundhouse delivers custom mobile app solutions across all platforms & devices including iOS, iPhone, iPad, Android and Web. We deliver custom solutions with competitive pricing. We design and develop apps for every device. Discover how we can help you create applications to increase productivity.

It all started in the month of November of 2009, when a group of subject matter experts and engineers, having worked with global technology leaders like Google and AOL, thought of bringing the experience and individual expertise into starting an ITeS venture that can deliver the same level of service and customer satisfaction. Our goal from the start has been to ideate, design, develop, and deliver solutions that are specific to the needs of our clients.