Top 10 App Marketing Companies – October 2020
The online platform scours the market to find the Top Ten App Marketing companies in each category. That is why Top App Creators has become the one-stop search platform for several brands looking for the best in class App Marketing companies around the world.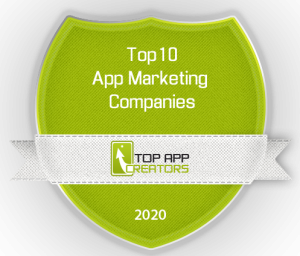 Dot Com Infoway is a globally recognized app development and marketing company. We manage all your IT, development, and marketing needs, so you can just focus on your core business.
Dot Com Infoway's services start right from the concept stage to span business consultation, market research, product development, multi-platform marketing and spreads through server and customer support activities.
With over 20+ years of industry experience in IT, we know exactly what it takes to create an engaging application that connects with the hearts and minds of your audience. We have expertise in developing apps across platforms, including Android, iOS, and Windows. We also design high-performing enterprise apps to streamline operations and optimize the supply chain for businesses.
Dot Com Infoway has been a leader in creating user-centric, functional business & marketing solutions ever since 2000. We serve B2B & B2C companies with the aid of our multi-channel approach and focus on delivering outstanding results. Our internet marketing services deliver exceptional outcomes & exceed expectations.
We provide a consulting session, during which we will do a quick audit of the various aspects of your online presence and let you know how digital marketing can help you boost your business.
App marketing is another domain that we specialize in. Our mobile app marketing service team delivers robust app marketing strategies to make your app reach billions of users and offer high returns on your marketing spend.
Hourly Rate: < $25 / hr
Employees: 50 – 249
Founded: 2000
Location: India
2.Moburst :
Moburst is a full service, global mobile success company that helps companies grow their business. After redefining hundreds of apps and A/B testing every possible feature in every vertical, our team knows what works for each product, and how to deliver the most relevant experiences for each user.
Hourly Rate: $150 – $199/hr
Employees: 50 – 249
Founded: 2013
Location: United States, Israel
3. Gummicube :
For more than a decade, Gummicube has been helping clients optimize their app listings, boost conversion, achieve incredible growth. Gummicube's technology and services are trusted globally by thousands of enterprise brands and startups including GrubHub, Sweat, McAfee, Carvana, Avis, Xerox, and many more. We are the global leader in App Store Optimization offering the leading enterprise ASO technology and agency services to support clients around the world.
Hourly Rate: $150 – $199/hr
Employees: 10 – 49
Founded: 2010
Location: San Jose, CA
4.Social Media 55 :
There are many players in the game, but one is really starting to make some noise, and that Digital marketing & SEO company, is Social Media 55. With headquarters in Montreal, Canada, the tightly knit and highly skilled group is heavily invested in both the US and Canadian markets. Rated amongst the top digital marketing agencies in both the United States & Canada.
Hourly Rate: $25 – $49/hr
Employees: 10 – 49
Founded: 2014
Location: Canada
5. AppFollow :
AppFollow is an app management platform for timely decisions and actions. Its review management and review analytics platform, App Store Optimization (ASO) tools, and dashboards for monitoring mobile app data, ratings & reviews, and organic growth helps mobile apps and games stay on track and manage critical data changes with ease.
AppFollow is a crucial tool for Customer Support, Marketing, ASO, and Product Management teams that want their apps and games take the first position on app stores' top charts.
Hourly Rate: –
Employees: 10 – 49
Founded: 2015
Location: Finland
6.Yodel Mobile :
Yodel Mobile is the leading global app marketing consultancy and Mobile Agency of the Year 2019, specializing in launching and scaling apps.
Since our inception in 2007, we've launched and aided the growth of over 200 apps. We work with clients from single territory start-ups to established, multi-territory, international brands such as mytaxi, NBCUniversal, UKTV, Bauer Media, Fujifilm, The Economist, Teletext Holidays, and Gymshark.
Hourly Rate: –
Employees: 10 – 49
Founded: 2007
Location: United Kingdom
7.Studio Mosaic :
Studio Mosaic is a growth-oriented app marketing & consulting agency based in New Delhi, India. We're an eclectic team of mobile app experts that have launched & promoted 500+ apps all across the world, resulting in increased user acquisition at an optimal cost and enhance app revenues.
We have 5+ years of AppStore experience and cover all aspects of app store promotions including – App Store Optimization (ASO), App Install Campaigns (PPI Advertising), Online PR, and Social Media Marketing.
Hourly Rate: $25 – $49 / hr
Employees: 10 – 49
Founded: 2013
Location: India
8.Techmagnate:
Techmagnate is a leading Ecommerce Website Design, Digital Marketing, SEO, PPC, Video Marketing & App Store Optimization (ASO) services company. Starting as an SEO and web design & development company in 2006, we have consistently grown as a 360˚ digital marketing agency and included Pay Per Click Advertising, App Store Optimization, Online Reputation Management, Application Development, and content marketing into our portfolio of services.
Hourly Rate: –
Employees: 50 – 249
Founded: 2006
Location: India
9.Mobiiworld :
We're an award-winning, Dubai-based, full-service design, and development mobile apps agency. We develop awesome mobile apps and games. We inspire emotion, achieve the impossible, keep people thrilled, and make dreams reality. This is our life's work, our legacy, and our passion.
We are the only mobile apps agency in the region to have won at the Cannes Lions award festival 2016. We also have numerous Dubai Lynx mobile apps awards and have also won the SL Magazine mobile apps award for developing the best shopping mobile app of the Year for Geant Hypermarkets.
Hourly Rate: $50 – $99 / hr
Employees: 50 – 249
Founded: 2010
Location: Dubai, United Arab Emirates
10.Arpuj Britge :
This talented, knowledgeable team offers a wide array of services, including user acquisition for your game or mobile app via Facebook Ads, AdColony, Google Adwords, and others. The mobile marketing company also provides enviable skills in app store optimization to understand data and maximize client revenue.
Hourly Rate: $ 100-149
Employees: 2-9
Founded: 2016
Location: United States Of America